Advanced Certified Scrum Master Certification against the classic Scrum Master. What exactly the Advanced Certified ScrumMaster is versus the BVOP™ Scrum Master role (explained).
Advanced Certified Scrum Master Certification is a very popular topic today among many Scrum professionals who want to obtain Scrum Master Certificate and further develop their careers in this field.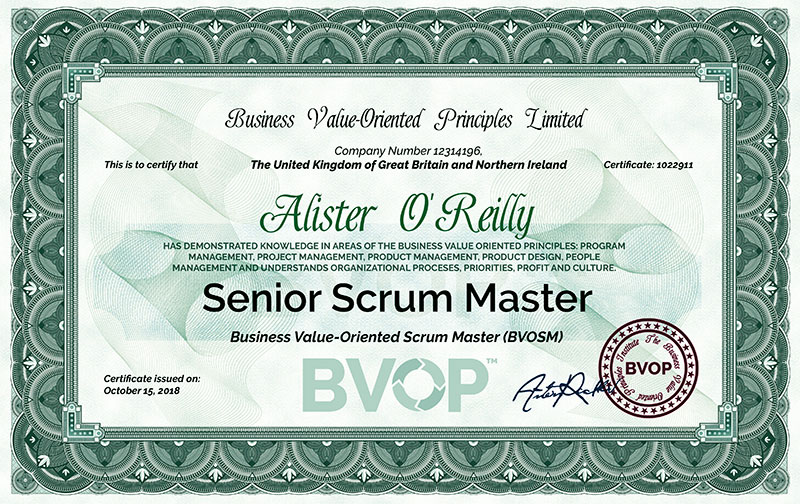 Certification for the classic ScrumMaster seems to be inadequate for the current industry offering courses and certification.
Today many training companies offer Advanced Certification because they see a lot of potential for new clients driven by a desire for professional development. They will pay for a course or a whole certification program.
Advanced Certified ScrumMaster Certification against the classic Scrum Master
However, the difference between Advanced Certified ScrumMaster Certification and the classic Scrum Master is unclear, with no details or details.
Professionals are not surprised by the fact that the original Scrum Guide is still 9 pages long. All new and advanced courses are based on repetitive knowledge that is rewritten and reread over and over again.
Nothing new is offered by the certification industry.
If you need to ask a professional who is certified as an Advanced Certified ScrumMaster and a classic Simple Scrum Master (PSM example) at the same time, you will not receive an adequate answer to the benefits of his Advanced Document and Training as a whole.
The difference is again based on the organization that provided the training.
The phrase Advanced Certified Whatever Certification attracts attention
Many professionals in the field claim that this is the most common marketing trick. Attracting potential aspirants for the modern Scrum Master role that would actually pay for the word Advanced and ignore classic old training.
Everyone wants to impress potential employers or simply raise a little ego.
This marketing trick succeeded and Advanced Certified ScrumMaster is now a phrase that more and more people are searching online in search engines.
What does the Advanced Certified ScrumMaster offer?
More materials on Scaled processes are included in the training and more interactions with teams and departments are mentioned. But that does not mean you'll find anything more than Large-scale Scrum (LeSS), Scaled agile framework (SAFe), [email protected], The Nexus™ Guide and etc. Everything else is based on classical teachings.
Let's recall something familiar but forgotten:
Hirotaka Takeuchi and Ikujiro Nonaka introduced the term scrum in the context of product development back in 1986.
Many years passed. For many years, Scrum has become from product management slowly to project management. The real reason for this is that product management does not sound serious to the software industry bosses. Employers want to hear about Project Management. That sounds more serious.
In fact, at the end of the day, this old teaching remains unchanged, and no one has actually contributed new useful practices, principles, and rules.
BVOP™ changes the Scrum Master role
The BVOP™ Scrum Master role is not based only on classical practices. The classic old Scrum is something unique and they are millions of fans out there.
The BVOP™ Scrum Master role is really advanced because we dared to expand the Scrum Master role and incorporate Product Management, Human Resources (yes, even modern Human Resources knowledge), Project Management, and many business and technology trends.
BVOP ™ advanced FREE course
The BVOP™ Ultimate Guide is a free guide to business, human, product, and project management. This means that you can learn the knowledge and principles freely when you want and as much as you like. The BVOP™ Scrum Master role is intended to be an advanced one. That is why professionals who want to develop as BVOP™ Scrum Master have to learn all the disciplines of the BVOP Ultimate Guide.
We believe that the modern Scrum Masters need this knowledge to be able to be adequate in real-world situations. Out there, a lot of skills and knowledge are required to satisfy dynamic businesses, consumers, and products.
BVOP is designed to change the thinking of people, teams, and management and to create new principles in the project, product, and people management. Do not forget that. The most important principle of BVOP is that business and people must be equally valued by all. This is what the modern Scrum Master has to preach everywhere and with all his might.
Conclusion
This article is not intended to impose opinions or to highlight specific certification programs. Real differences and peculiarities in the roles as real knowledge and requirements for working in real projects are described.
Here's what you need to know about using this Agile framework
It is appropriate to include Scrum in the production processes of an organization when:
There is a high probability of many changes in the process of working on a particular project.
The initial requirements are not defined in detail.
Fast results are required and possible, which can be checked, corrected, and upgraded.
There is a Product Owner fully committed to the process.
The team is suitable – as the size and available skills for self-management, as well as the attitude to the continuous improvement of the process and quality of work, last but not least, adopted in sync with the principles of Scrum.
The project itself is appropriate – agreed on the basis of time/materials, not the exact scope, as well as depending on the stakeholders – how appropriate their culture is for innovation and adaptation to change.
It is not appropriate to include Scrum in the production processes of the organization when:
The process or project has a detailed scope that does not change.
The organization already has similar implementations and there are no serious challenges for the implementation of a current similar project.
The team is not appropriate, including not understanding / unwilling to accept Scrum's principles.
Stakeholders are not appropriate, for example, coordination of certain documentation or project stages is required.
The implementation of the scope within a certain deadline is essential, for example, due to regulatory requirements.
Possible difficulties of the organization in the implementation of Scrum:
The management of the organization should get acquainted with the basic principles of Scrum, and it is important:
No unrealistic expectations Scrum will solve certain / all current problems.
To think that Scrum is a cheaper and faster way to achieve certain goals.
To support and provide resources for the work of Scrum teams, encouraging their self-management and self-improvement.
It is also necessary to invest in learning about Scrum and Agile practices in the organization and among potential stakeholders – partners.
In case of a negative attitude or misunderstanding towards Scrum, look for ways to overcome the reasons for this.
Careful decision-making on which projects to work on Scrum and which not.